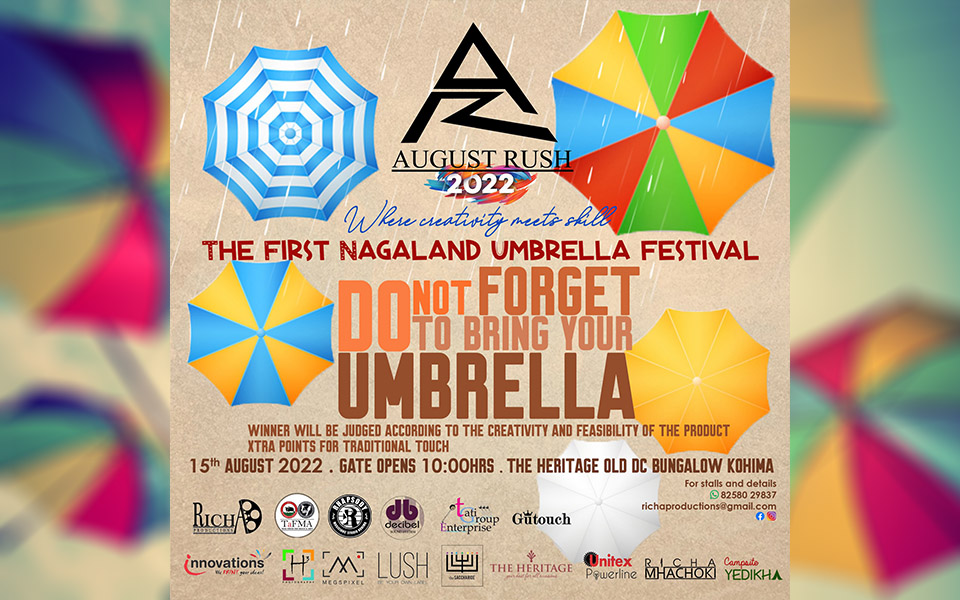 The Nagaland Umbrella Festival
The 6th edition of August Rush 2022 under the banner of Richa Productions Kohima will take place on August 15 at The Heritage, Old DC's Bungalow, Kohima. This event involving various agencies, will be held under the theme "Where creativity meets skills."
August Rush was started in 2016 with the intention to give a platform to young entrepreneurs and young artists and talented youngsters to come together and celebrate, display, advertise and promote their talents. It can be singing, dancing, painting, etc.
This mega fun event will be marked by a fashion show, the fittest man and woman contest, the best of August Rush solo singing contest, EDM Nite, musical recital etc.
The event will also feature the Nagaland Umbrella festival, the first-ever umbrella festival in the northeast.
In this special feature, one can paint, draw or decorate an umbrella with their own theme or any cause to support. The winner will be awarded with an attractive prize.
The program will start from 10:00 AM onwards and is likely to continue till 9:00 PM.  Naga Students' Federation (NSF) President, Kegwayhun Tep will grace the inaugural function as the special guest.
The entry fee to the event has been fixed at Rs 100 per person.