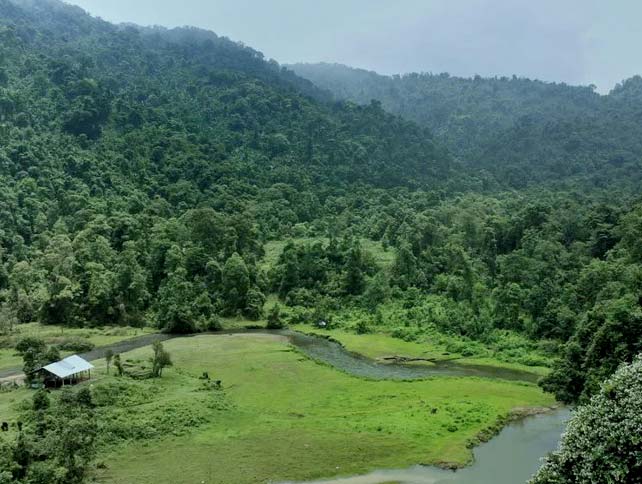 Dzulekie -Relax in the Lap of Nature
Dzulekie is a picturesque village situated relatively close to Kohima, but yet untouched by the rigors of modern civilization. Dzulekie, with its small population of Angamis presents an ideal location for visitors to get a feel of rural life in Nagaland. With its quaint houses and beautifully laid out stone walkways and surrounded by forests and rice fields, Dzulekie provides an opportunity to experience village life and also enjoy nature in its relatively pristine form. The village itself is small enough to walk around. It offers opportunities to observe firsthand Angami culture through the making of bamboo and cane baskets, weaving of cloth, traditional games and tasting local cuisine. The semi evergreen forests offer opportunities for bird and butterfly watching; nature walks and trekking.
Nestled in a valley surrounded by pristine forests, Dzulekie village is one such gem of a place in the world where you can come to rejuvenate your spirit and soul and enjoy the warmth Naga hospitality.
An opportunity to rejuvenate your spirits in serene and beautiful rural surroundings
HOW TO REACH DZULEKIE
Dzüleke village is around 35kms from Kohima and there is no public transport to it. Private vehicles can be hired for transport
Dzulekie is one of the most popular picnic spot visited by local people but there are designated spots only where it is allowed. The picnic grounds are low flat grounds next to the river source allowing visitors to enjoy the sound of nature without intervention of technology. 
Trout Breeding Center : The river is source of rare snow trout and some of the trout fishes are even brought from other states for the experimental breeding project.
Paddy field walks and Agro-tourism: The terrace paddy fields are not only picturesque but a great way of indulging in agro farming practices and tourism.
Angling/Fishing: The local fishes from the river are not only delicious but the activity of fishing helps in building better bonds with the local. The paddy fields also become breeding ground for small fishes that swim along the river and reach the farms.