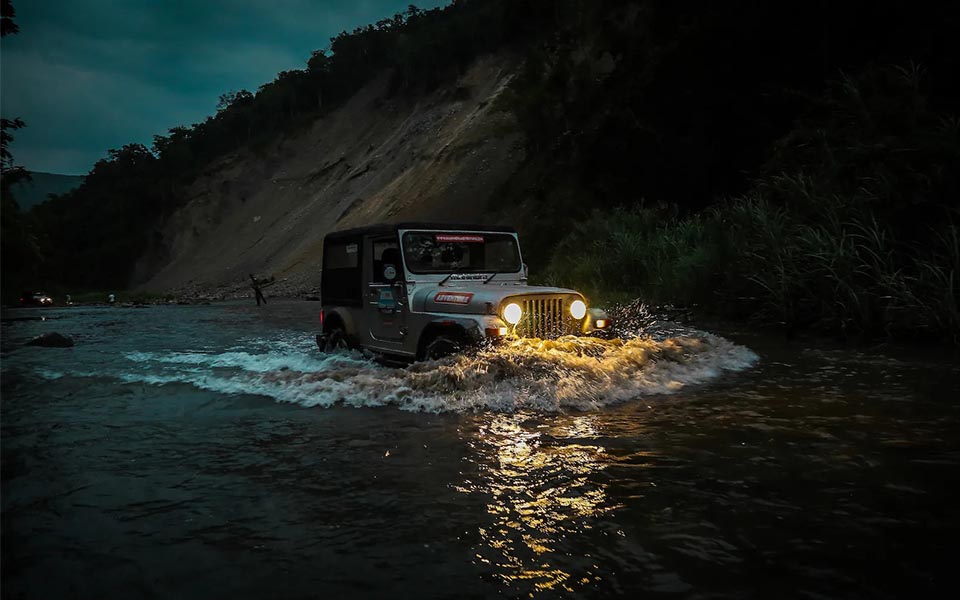 A new off-roading experience in India's wild, wild east
A new off-roading experience in India's wild, wild east
A chance to experience Nagaland like never before

BY ANURAG MALLICK AND PRIYA GANAPATHY
30 August 2022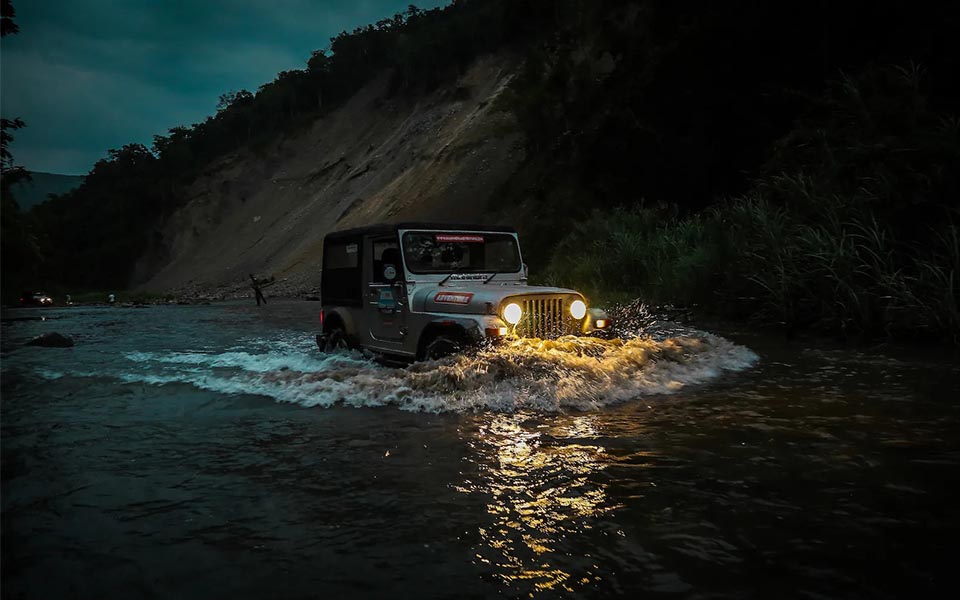 One moment we were trundling down a forested hill, wary of the blade-like bamboo stumps that could slice the tyre sidewalls, the next instant we were fording through a nala. Easing into the water, we heard the gentle jangle of heavy metal gingerly crawling over rocky boulders on steady speed. A sigh of relief escaped our lips as our Thar inched out without any belly scrapes and slid up the incline safely. Suddenly, we were skating like liquid mercury in a petri dish, swimming the steering wheel through a muck-track by the paddy fields. Hoping to avoid getting mired, we drove along a bund overgrown with grass and wildflowers at the edge of the field. 'Keep moving,' a voice instructed on the radio. And then, the soft earth just sank and pooled around the tyres.
We had misread the line and driven right into a ditch. A mild rev spun the wheels, rutting deeper into a furrow. We reversed and tried again but the car teetered, tilting sideways, oblique on the edge. "STOP. STOP. Get out of the car!" the radio crackled. And we scrambled out hastily, jumping shin-deep into the squelchy flooded rice field below before our rescue team swung into vehicle recovery mode. The sticky muddy water from the potholes gushed into the ditch, burying the wheels further. Tow-straps, winches latched onto another jeep and sheer muscle power of the local folks heave-hoed and dragged the vehicle back on track. We had literally gone off the road on a field study! Nidhi Salgame, the off-roading expert who brought us here, smiled, "Thanks, Priya! We were waiting for some action."
Nagaland is a hilly state with some of the most notorious roads in the country–perfect for off-roading. It has rolling hills, epic landscapes and pristine villages and often, a 4×4 is the only way to reach them. Here, time is relative and distances don't matter—the terrain dictates everything. The unpredictability of dirt, gravel, foliage, rocks, slush and water bodies heightens the thrill of the drive. Criss-crossed by mountain streams, fording them is an additional challenge. Tracks are often deeply rutted by the movement of loaded timber trucks, and the contours of the terrain cause abrupt turns, rises and falls, calling for technical prowess and equipment for winching and towing. It's a hands-on adventure backboned by self-reliance and preparedness to rough it out.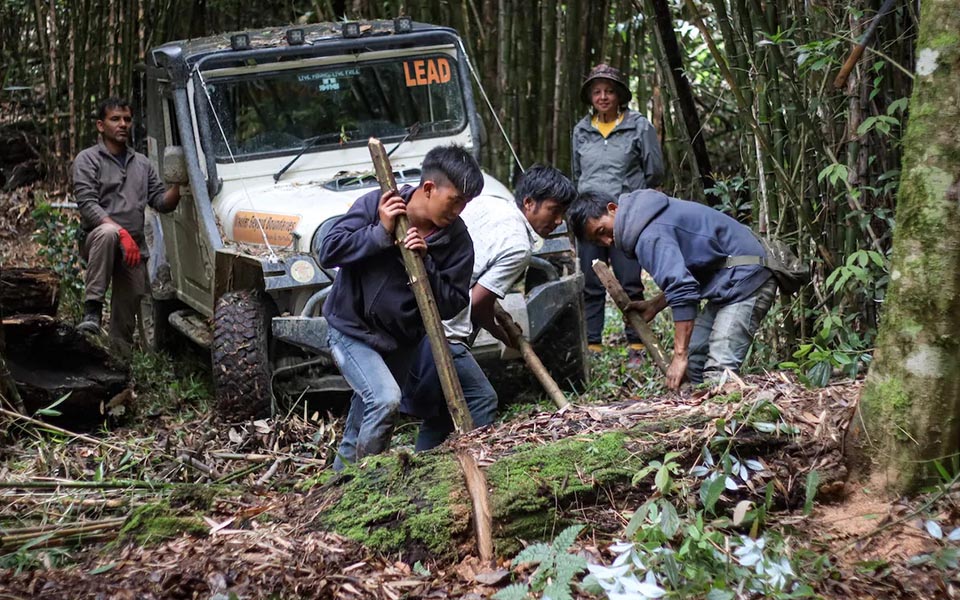 Offroading in Nagaland is a meaningful mode of travel that takes you beyond the main tourist hubs of Dimapur-Kohima. Each district presents different obstacles and unparalleled glimpses into ancient Naga culture, preserved by its indigenous tribal communities. Every village has a morung or youth dormitory where boys were taught cultural traditions and customs from an elder. The home fronts are adorned with mithun heads and hunting trophies. Remote area travel gives any visitor enriching insights into Naga folklore, World War history, crafts and costumes and their way of life.
We flew into Dimapur and set up base at Longchen Homestay from where we set off in 4×4 Mahindra Thars, equipped with under-chassis plating, snorkels, winches and whatnot. Our convoy was led by extreme terrain expert Nidhi Salgame of Wander Beyond Boundaries (WBB). The journey began at Peren, as Nagaland's recorded history begins here. The British quest to find a direct route between Assam and Manipur to expand their tea trade, pitted them against the headhunting tribes of Nagaland, resulting in the first Anglo-Naga conflict of 1831 at Poilwa. This was the Land of Forests with tribes as fierce as the Naga morich or Cheiba Rachi (literally, King Chili), which originates in the district. Located at the tri-junction of Assam, Manipur and Nagaland, Peren is home to the Zeliangrong (an amalgam of Zeme, Liangmai and Rongmei tribes), besides the Kukis.
Driving to the sub-division headquarters Ahthibung, we abandoned the main road and took the diversion via the centuries old Kuki village of Songhluh to Old Beisumpui. We witnessed the mesmerising Herielim, or Hornbill Dance, by firelight. To watch a performance in its natural setting is an unbeatable perk of remote area travel.
Driving in this territory can be brutal, especially when the rains transform the landscape overnight. Battling slush, bush and slope, we winched and towed ourselves as bands of locals helped clear a path using daos (machetes), chainsaws and shovels. Over three days, we covered 5km, 3km and 6km to reach Songsang, Besampui Zangdi and Lower Sinjol. Visitors are rare in these parts and the overjoyed villagers put up a cultural performance for us as we stayed in the rustic homes of the Gaon Bura—the village chairman, secretary or pastor.
The road to Lalong was a rollercoaster of ascents, descents, forest trails and a seemingly endless sludge track that challenged both driver and machines. Driving via Tening, we reached the southernmost tip of Nagaland where the Meguiki river meets the Barak river beyond Canamaram, then onwards to the district headquarters Peren. Our journey took us to a lesser-known side of Nagaland–the cave hideout of revolutionary Rani Gaidinliu, who fought the British. We stayed at a homestay in Benreu, a charming village on a ridge in the shape of two mithun horns–it's the base for trekking to Mount Pauna, the highest peak in the district.
Continuing to historic Poilwa, we walked through its ancient war gates, morungs and stumbled upon a 33ft-long bed, allegedly the largest bed in the world! Our host and tour guide HK Mbung sacrificed a large rooster in traditional style (by choking its neck and blocking its anal sphincter with his bare hands), while explaining the rules of such sacrifice. The bird was roasted lightly on the fire, its feathers plucked off and quickly prepared into a Zeliang-style chicken curry. It was wild, drinking rice beer and dipping into spicy liver chutney.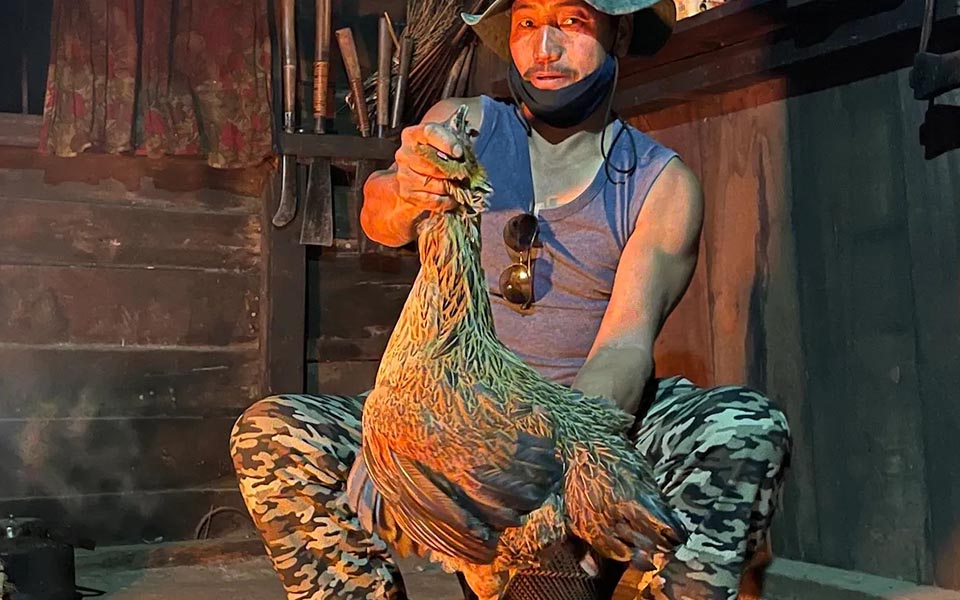 Each district sprung a surprise with its unique tribal identity, traditions, songs and dialects that differed from village to village. Phek is home to the Chakhesang (an amalgam of Chokri, Kheza and Sangtam/Pochury) tribes. At Zapami, we learnt how stinging nettle is magically woven into fabric. The museum is a repository of artefacts including WW-II-era gas masks found in the fields! We set off with a few local youth on a slippery offroad track up to Pine Hill, a scenic spot.
Next, the convoy trail-blazed an off-road route from Kami to Kapamodzu; one of trickiest drives by far. The forested incline was slippery and narrow as wheel placement became critical. Aided by a band of locals, we inched forward relentlessly till midnight, before tiredly camping near the summit. We felt a huge sense of achievement when we reached Kapamodzu the next morning and savoured the view it presented before heading to Zalome on a cliff track. It was Good Friday and Pastor Lawrence invited us for a 'pure veg breakfast'. The tinkling in the yam curry revealed it had snails. "How is it vegetarian," we asked bewildered. "Snails don't have blood," was Pastor's benign explanation.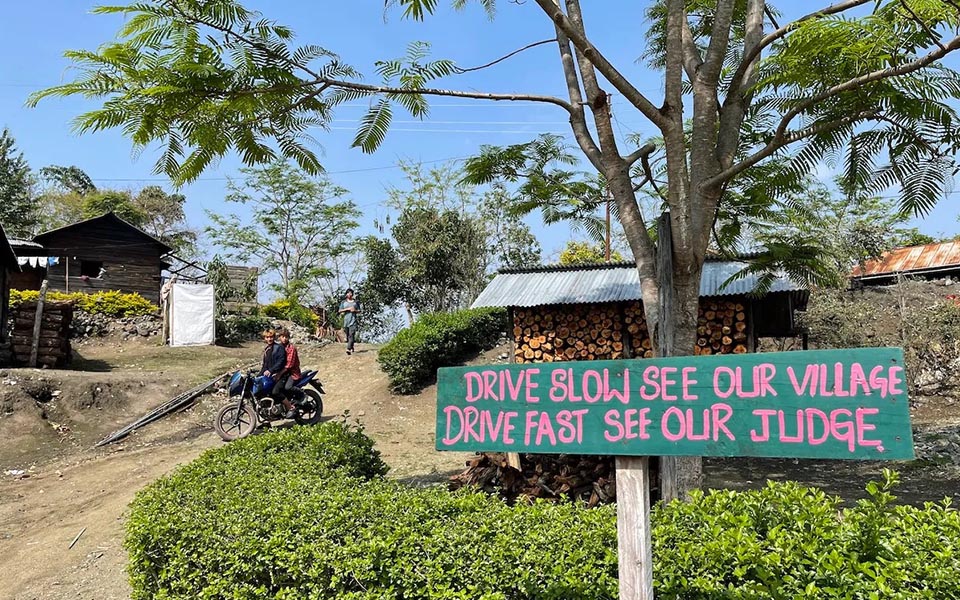 At Chizami, we met Seno Tshuhah and Atshole Thopi, the founding members of North East Network and learnt about Nagaland's glorious weaving traditions. Staying at the NEN Guest House, Akhrole churned out exotic local cuisine enriched with foraged greens and millet pancakes. We drove to the historic WW-II battleground of Jessami, where the first action against Japanese forces took place on Indian soil on 27 March 1944. One company of 1 Assam Regiment fought off a much larger Japanese 31 Division for a week, buying precious time to build defenses before the Battle of Kohima.
Source: https://www.cntraveller.in/story/nagaland-off-roading-road-trip-adventure-india/